Cabin Rentals Near Ripken Baseball Complex
The Ripken Baseball Complex in Pigeon Forge is one of the best places to work on and exceed your baseball skills. They host tournaments, spring practices, and camps. All of these events keep players, parents, and families extremely busy. What if you could save yourself time, stress, and money? Our cabins near Ripken Baseball Complex will do all of that! You'll be less than five miles from the complex which will save you from stress-induced traffic and wasting gas. The best part of this though, is after a long day at the fields you can come back and relax poolside, in a hot tub, or by a cozy fire!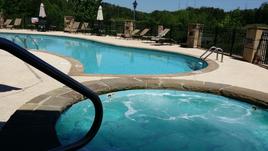 3 Bedrooms, 3 Bath, Sleeps 8

Southern Living is a beautiful 3 bedroom condo located less then a mile from the main parkway in Pigeon Forge! Located on the beautiful Gatlinburg Golf Course, with an indoor / outdoor pool as well as a sauna available for your enjoyment! The only 3 bedroom condo in the whole building! *Half mile from the main parkway in Pigeon Forge, 10 minutes to downtown Gatlinburg* Learn More.